Many of us tried to separate politics from business, but we cannot deny that policy marking around the world is one of the most important trends to follow if you are a hard-core marketer or business owners. Media and technology companies in the United States have been recently hit by a European Union new policy that now holds companies responsible for the safekeeping and legality of their data gathering.
From now on, those who collect and manage user data will be obliged to protect it from misused and exploitation, as well as to respect the rights of data owners – or face penalties for not doing so.I would explain why this affects you?
As you remember, back in your college years, one of the most basic Marketing 101 tactics we learned is to conduct what is known as a SWOT analysis: It is a strategic planning technique used to help a person or organization identify the Strengths, Weaknesses, Opportunities, and Threats related to business competition or project planning.
How external threats affect your Media Buy Strategy
This article focuses on the external Threats related to what happens outside of the organization, where the organization has no control over (well some corporations use lobbying in the US to try to change policies to their favor, but that is another topic). Policy changes in our country or overseas, in our current global economy, can have a huge impact on your business. A marketer or CEO who does not pay attention to these external threats are out of her or his game in a big way
Facebook worldwide scandal of data reach affects Media Buy Marketers worldwide
As we all know and seen on television and on social media. The recent Facebook data reach scandal that affected 50 million Americans has now created a worldwide alarm and a wakeup call, especially with the new area of information warfare currently going on around the world. Data has become the newest and most desired digital currency, in that those who have the most in-depth information of users' lives at the granular level have the power to micro-target and influence their purchasing habits, but also the power influence an entire country's culture– when in the wrong hands.
Video explains how a bad actor extrapolated facebook data of more than 50 million Americans.
What is GDPR compliant? 
General Data Protection Regulation (GDPR) recently proposed by the European Commission that strengthens and unifies data protection for individuals within the European Union (EU), whilst addressing the export of personal data outside the EU.
Who is affected by this Policy?
Just about any company that collects, uses, share, holds, storage, or sales user data. Google is one of the companies that has been affected, for example. Google's tech0ogy is so interconnected in everyone's lives all over the globe that a policy like this is having a big impact on their business operations.
What type of personal data is protected now under the GDPR Policy?
Personal data under the existing legislation include name, address, and photos name, phone, emails, phone calls, text messages, contacts, photos with GPA, likes, comments, ads you like or videos you view, and even the new Biometric data that has is collected via face and fingerprint recognition on mobile devices such as the new iPhone 10.
Furthermore, the GDPR policy extends the definition of personal data so that something like an IP address collected from your computer, home and house network, or geolocation collected on mobile phone via GPS through handheld phones want watches. Also, your Internet of Things devices (IoT) that could hold personal data such as your home thermostat temperature (that shows when you are at home and when you are not), and/or your kitchen appliances. It also includes sensitive personal data such as genetic data which could be processed to uniquely physical identity of user's individual DNA such as the one collected by Anscentry.com, a service where customers send blood or saliva samples to find out about their ancestry.
As you can see, this irresponsible data collection by technology companies that started all fun and games years ago, today in the year 2018, these type of data has been breached and taken by bad actors and it has been weaponized– or as some called it– it has been used in information warfare with the purpose to affect democracies or control the outcome of policies or elections.
By May 2018 Google is now forced to comply with the new  GDPR policy imposed by the European Union. How does that affect you?
I'm an AdWords certified partner for many years, and I run accounts for many clients. Today, I received the following email from Google: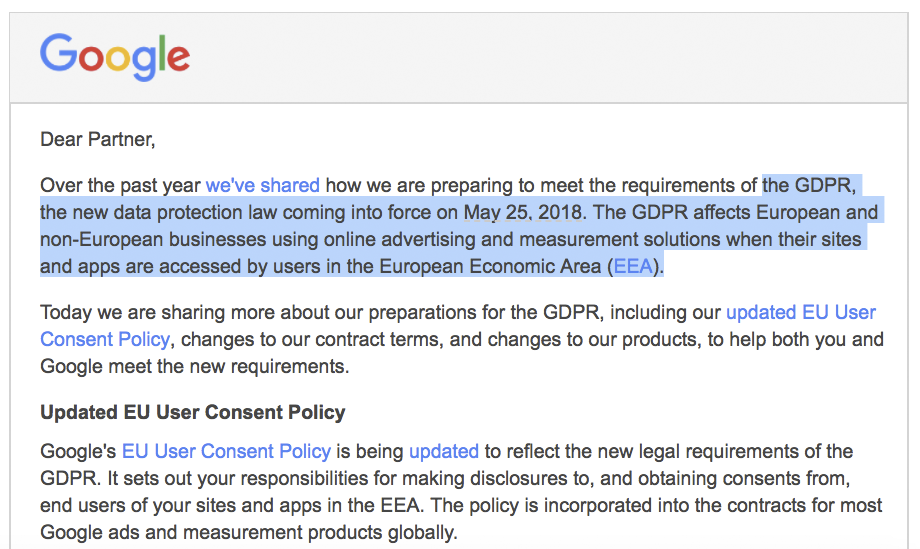 Google has contacted all Adwords partners (marketers and brands)
Google has been rolling out updates to user's contractual terms for many products since reflecting Google's status as either data processor or data controller under the new law (see full classification of our Ads products)
Fun and Games – Game over. A new era is about to begin.
In other words, collecting and sharing of user data won't be as easy as it was before. Let's use Facebook as an example. Facebook collects your information such name, address, phone, email, phone calls, text message, contacts, photos, likes, comments, ads you like or videos you view, and even the new Biometric data that is collected via face and fingerprint recognition.  I must add that years ago I predicted something like this will eventually happen. Kids running technology companies with not supervision collecting huge amounts of data like we have never seen before. A very dangerous game.
Plus, and I bet you didn't know this, Facebook also has been harvesting data about you from outside sources. They paid data companies to obtain more information that you did not share on Facebook, such your background check, credit report, etc. with the pretext of creating a more effective psychographic profile of its users, so they can be micro-targeted user better, but the party is over friends. Now media companies in order to share this information with developers and ad users, will have to ask permission and go through a process.
If you are interested in how much data is collected from you and how it is used to psychologically control your decision making and free will, I recommend you watch this Ted Talk below.
We're building a dystopia just to make people click on ads
Min. 4:20 "With big data and machine learning, that's not how it works anymore. So to imagine that, think of all the data that Facebook has on you: every status update you ever typed, every Messenger conversation, every place you logged in from, all your photographs that you uploaded there. If you start typing something and change your mind and delete it, Facebook keeps those and analyzes them, too. Increasingly, it tries to match you with your offline data. It also purchases a lot of data from data brokers. It could be everything from your financial records to a good chunk of your browsing history. Right? In the US, such data is routinely collected,collated and sold. In Europe, they have tougher rules." -Zeynep Tufekci  TEDGlobal>NYC
I know here in the states we have become accustomed not care for the very private information companies collect about us with the pretext that "WE HAVE NOTHING TO HIDE," but  a) this is nothing to do with having anything to hide,  b) that does not fly in other countries where privacy is still a big deal.
I don't know you, but for a companies offering service or products to international users and consumers such Apple, Google, Facebook, Twitter, Amazon and even small firms that use their services to do business are affected, or developers selling app services. Well, technology companies are no longer allowed to do as they please with user personal data, or else they will be paying big penalties for it.
.
Under the terms of GDPR Policy, not only will organisations have to ensure that personal data is gathered legally and under strict conditions, but those who collect and manage it will be obliged to protect it from misuse and exploitation, as well as to respect the rights of data owners – or face penalties for not doing so.
Google says in their memo sent to Adwords partners:
In the cases of DoubleClick for Publishers (DFP), DoubleClick Ad Exchange (AdX), AdMob, and AdSense, Google and its customers operate as independent controllers of personal data that is handled in these services. These new terms provide clarity over our respective responsibilities when handling that data and give both you and Google protections around that controller status. We are committing through these terms to comply with our obligations under GDPR when we use any personal data in connection with these services, and the terms require you to make the same commitment.
Shortly, we will introduce controller-controller terms for DFP and AdX for customers who have online terms.
By 

May 25, 2018

 we will also introduce new terms for AdSense and AdMob for customers who have online terms.
If you use Google Analytics (GA), Attribution, Optimize, Tag Manager or Data Studio, whether the free or paid versions, Google operates as a processor of personal data that is handled in the service. Data processing terms for these products are already available for your acceptance (Admin → Account Settings pages). If you are an EEA client of Google Analytics, data processing will be included in your terms shortly. GA customers based outside the EEA and all GA 360 customers may accept the terms from within GA.
Product changes
You can refer to privacy.google.com/businesses to learn more about Google's data privacy policies and approach, as well as view our data processing terms and data controller terms.
If you have any questions about this update, please don't hesitate to reach out to your account team or contact us through the Help Center. We will continue to share further information on our plans in the coming weeks.
Thanks,
The Google Team
I'll continue to update this article as new information develops.
Total Page Visits: 258510 - Today Page Visits: 7