Many of our clients have asked us the following question: Where should I start from when running a marketing campaign?
The answer varies depending on the type of situation, and this is one of the major issues many business owners–and even marketers– struggle with. There is no one plan fits all when it comes to marketing.  Marketers sometimes fail to ask important questions and gather key data that will provide a clear vision and path of what needs to be done, what's the goal, and where to begin from.
For example,
Let's say the marketing campaign you are running it's product-focused. First, the question here shold be: Is this a product development effort, or a product that needs market penetration, diversification, or development? Seconly, what's the product's target market, which  phase of the customer journey the product is currently positioned at. Lastly, who are you targeting based on all this information?
An excellent starting point for an effective and actionable marketing campaign.
For a startup business, the most important thing to focus on is a) having an overall business strategic plan, and b) extrapolate from the business strategic plan your business goals and tactics. In other words, ask yourself the following questions:
What is the purpose of my businesses?
What do I want to achieve in the long and short term, and how am I going to achieve it (goals?)
Lastly,
What tools, resources, measurements, and actions I need to take to achieve these goals (tactics)?
Why a business analysis?
Analyzing the current state of your business (Business Analysis) helps you summarize in a manageable manner what your business or brand is about- its strengths, weakness, the market, your audience, and long term strategy (strategic plan), goals. This, ultimately, will serve as a benchmark from where to draw the tactics you will utilize to achieve them- short and long term goals.
What is a Business Analysis Report? It's the extrapolation of business data such as market, target audience, internalities (product weakness & straights), and externalities (product's pportunities and threats). As well as identifying corporate strategy, and business level strategy with implementations, and recommendations.
.


Running a marketing campaign without a business analysis report is like navigating without a compass.

Not having a business report, or similar document, before starting a promotion or a marketing plan can cost the company money, and time. As obvious and as important as this document might seem, many marketers or business owners do not bother or even know to have this document first. Some might say, "I know what my product and business is about, so I don't need to write it down." Many of our clients who do go through the process of developing a business analysis are taken back when they discover that there are many areas of the business they did not take into account, and the direct impact these have on the company's profit and success.
This is a two-part section on how to go about crafting an effective and actionable marketing campaign beginning with a Business Analysis Report.
Below is an example of a Business Analyses. The UK global company Just Eat was chosen to demonstrate how a business analysis looks like.
======================
Business Analysis Report Sample
By Mary

Company: Just Eat
Stock: JE (LON)
Founded: 2001, Denmark
Headquarters: United Kingdom
CEO: David Buttress (May 2013–)
Revenue: 375.7 million GBP (2016)
Purpose: How Technology Improves the Workplace with Robotic Food delivery
Overview:
Just Eat is one of the world's largest E-commerce successes. The UK-based online company began testing self-driving robot cars in selected US and European cities since the end of 2015. The company's technology is designed to increase delivery capacity for restaurant partners and to help restaurants with Its POS technology to simplify the way employees accomplish specific tasks at work. Just Eat creates efficiency by allowing restaurant employees to place the food order on the droid instead of having to drive to deliver the food to customers' doors. In addition, Just Eat cuts workplace expenses by removing the need for a point of sale system (POS) or having an employee running sale orders. Instead, customers can place their orders by phone or on the Just Eat website (Just-Eat.ie). Also, Just Eat provides easy and quick order processing and assists restaurants with local marketing and access a vast database of pre-register customers.
Background:
Just Eat was founded in 2000 by Jesper Buch in Denmark. Buch's critical incident or unique selling proposition was having a keen vision to tap into the automation of the fast food delivery market. By 2006, Jesper Buch moved to London and set up a team headed by sales director David Buttress and launched Just Eat UK. The company's global expansion from the UK headquarters began with its Netherlands launch in July 2007 and was subsequently expanded to include Ireland in April 2008. In July of 2009, Just Eat received their first Series A investment funding. Index Ventures and Venrex Capital invested £10.5 million into Just Eat Holdings Ltd. (pp. Ventures, 2009).
Today, Just eat has expanded to even more countries such as Australia, Mexico, Ireland, Canada, Spain, France, New Zealand, and Switzerland.

Internal environment
Strengths
Just Eat offers phone orders, a unique selling proposition that other self-driving delivery companies do not offer. In addition, they focus on helping restaurant owners with local marketing. In other words, aside from the normal patronage of their restaurant, Just Eat brings in new customers by professional targeted advertising. Another keen element is that Just Eat provides their restaurant partners access its database of 17.6 million customers. Lastly, they are well known in Europe, so if a competitor company from America wants to enter those markets, Just Eat might have an established market share that would be hard to compete, in that it already has established partnerships and acquired loyal customers.
Weaknesses
Just Eat began running its self-driving robots in selected cities, so their market development and penetration is low, starting out with a slow pace. The threat of Just Eat's weakness is that other companies like Amazon, who are currently developing self-driving food delivery droids as well, could take over global markets at a faster pace. Also, there are local companies that are beginning to compete with them in America. In March of this year robots from Starship Technologies began on-demand delivery in congested urban areas. The self-driving robots deliver goods from restaurants in Redwood City, California to customers within a two-mile radius. (pp. Robinson, 2017).
External environment
Opportunities
Technological: because of the continuous proliferation of internet access around the world, access to the type of technologies "Just Eat" offers will continue to grow. The potential market expansion will improve as the use of smart mobile devices continues to expand and grow in use.
Economic conditions: as developing economies such as Brazil, China and India continue to develop, there is a large and growing middle class emerging, something that represents new potential markets for Just Eat.
Threats
Some of the external threats for Just Eat are the social, political and economic volatile environment in the world right now. A sentiment against globalization and the continuing demonstration of nationalism sentiment, specifically in the European Union and in the United States, threatens Just Eat the global tragedy and current operations. An example of this is last year's elections where the UK voted to exit the European Union (Brexit). Economics experts project that Britain could trigger a continent-wide recession, and according to a recent note from analysts James Knightley, James Smith and Viraj Patel at ING, the investment bank. "Things could go very badly," ING says,"if the dealmakers can't reach an agreement on how to continue trade [with the UK]." (Business Insider)
During the recent French Sunday's elections –with two candidates, one from right-center globalist, and other from the far-right nationalist party whose supported the exit of France from the European Union– caused panic among investors and Just Eat's stock value dropped 0.02%.– It began going up after the globalist party won.
Findings Analysis
Based on the SWOT analysis gathered, one of the major threats for Just Eat is the dissolution of the European Union which currently favors free trade among E.U. nations.  Britain's exit from the Eurozone can harm certain investments, yet since their business model extends to the global market, mobility in other markets around the globe is likely to continue to grow. One good indicator was the recently concluded French elections, the outcome of which had the potential to threaten the stability of the Eurozone. The outcome of those elections in favor of globalization, just concluded, putting Just Eat in good standing to continue growth at its current pace, while simultaneously continuing to design a strategic contingency plan if ever the European Union weakens.
Identifying Corporate Level Strategy
Just Eat main core vision is to create the world's greatest food community. Its goal is to become the number one fledgling sector of the local takeout restaurant online by strategically focusing on every facet of the business, be that creative, media planning and investment, trade. Continue developing and designing market leadership strategy that can differentiate Just Eat from it competitors.
In 2011, Just Eat established a joint venture in India, which allowed the Group to raise up to $48 million from their Series B investment, allowing the company to make 7 acquisitions in a year, reaching Switzerland, Italy, Brazil, France, and Canadian markets. (pp. Lunden, 2012).
By 2012, Just Eat consolidated its position in the UK by acquiring fillmybelly.com, a competitor. That same year, Just Eat announced its $64 million Series C funding round. The funds were partly used to launch the Don't Cook rebranding campaign in the UK and to acquire in October its main competitor in Spain SinDelantal (Wire, p. 2012), (pp. Lunden, 2012).
Throughout the consecutive years until today, Just Eat has continued to follow its strategic plan. The good approach of acquiring or buying out competition assist them to remove the competitor threat and aids them to increase its market penetration. In contrast, Just Eat has relay heavily in funding and investment and that could pose a risk considering the current unpredictability of global markets today.
Business Level Strategy
The corporation's Business Level Strategy necessarily centers on location-specific issues such as navigability from the business venue to destination venue, the distance between them and a possible intercept of the robot in transit before delivery is complete. Although, the web and mobile-phone applications would play a central role in the success of a given delivery, the fact that the robot is essentially running on autopilot (without human accompaniment or supervision), there is always the threat of a hostile human encounter. Such an encounter could result in theft of the robot entirely, damage to the robot and/ or theft of its contents. Business strategies would focus on minimizing these liabilities while enhancing service and customer satisfaction.
Other Business Level Strategies would address the limitations of the robot's vulnerability, range, its physical size, capacity and ability to deliver the food either hot or cold, things that are order-specific.
Analyze Implementations
The structure and control systems of the company would center on the physical and location specific implementations of the business model: to successfully navigate an order from the specific business venue to the destination venue, the control and navigation of the robot in transit. These control systems are, by design and flow from the specific business model, technical in nature. These technicalities require the implementation of the latest robotic and communication technologies, technologies that include GPS and reliable two-way communications. (How does a Just Connect Terminal (JCT) by Just Eat work?)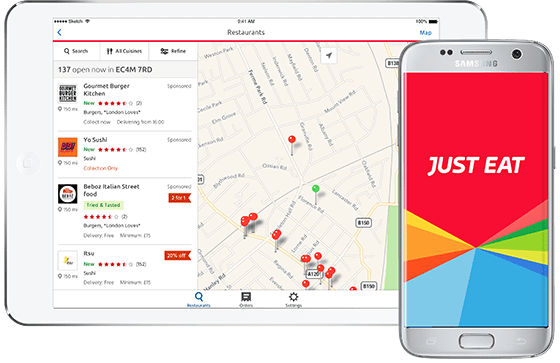 Recommendations
Just Eat utilizes a subscription and commission-based business model as its primary earnings and revenue stream. The company's commission rate increased from 11% to 13% in May 2016 resulting in a share price surge of 8% with annual revenues projected to increase from £8m to £358m (Just Eat delivers profit rise after hike in restaurant commissions ).
Recommendation: This business model could be enhanced to include volume-based incentives for the business subscriber: the more successful orders placed above certain tiers established by the company could result in a reduction of the commission paid by the subscriber ("source venue"). The implementation of this incentive would allow the business subscriber to retain more revenue, thus driving its growth and expansion, ultimately resulting in the continued growth and expansion of JustEat. A long-held business paradigm is that volume, not price, drives growth and success; this recommendation is consistent with that paradigm.
UP NEXT ON PART TWO OF THIS ARTICLE:
How To Set Up A Marketing Strategy in 5 Steps
Works Cited
(n.d.). Retrieved from Business Insider: http://www.businessinsider.com/bad-brexit-deal-impact-on-european-and-uk-economy-trade-single-market-2017-4
How does a Just Connect Terminal (JCT) by Just Eat work? (n.d.). Retrieved from https://www.quora.com/How-does-a-Just-Connect-Terminal-JCT-by-Just-Eat-work-What-is-the-technology-behind-it-and-what-are-the-operational-costs
Just Eat delivers profit rise after hike in restaurant commissions. (n.d.). Retrieved from The Guardian: https://www.theguardian.com/business/2016/may/03/just-eat-delivers-profit-restaurant-commission-online-takeaway
Kollewe, J. (2014, April 3). Just Eat shares rise on stock market debut.
Lunden, I. (2012, April 30). Just-Eat Just Raised Another $64M From Vitruvian, Index, Greylock For Online Food Ordering. Retrieved from techcrunch.com: https://techcrunch.com/2012/04/30/just-eat-just-raised-another-64m-from-vitruvian-index-greylock-for-online-food-ordering/
Robinson, M. (2017, March 24). Tiny self-driving robots have started delivering food on-demand in Silicon Valley — take a look. Retrieved from businessinsider.com: http://www.businessinsider.com/doordash-delivery-robots-starship-technologies-2017-3
Ventures, I. (2009, July 14). Just-Eat Completes £10.5 Million Series A Funding. Retrieved from Internet Archive Wayback Machine: https://web.archive.org/web/20111220023157/http://www.indexventures.com/news/index/news_id/225
Wire, B. (2012, October 12). JUST EAT acquires Spanish competitor to consolidate position as world leader. Retrieved from businesswire.com: http://www.businesswire.com/news/home/20121003005098/en/EAT-acquires-Spanish-competitor-consolidate-position-world
https://www.quora.com/How-does-a-Just-Connect-Terminal-JCT-by-Just-Eat-work-What-is-the-technology-behind-it-and-what-are-the-operational-costs
Total Page Visits: 58527 - Today Page Visits: 2