48 countries Global Business Map breakdown by country and trends An overview of fundamental country facts and specific market insights.
Think geographically, not just demographically
With 2.4 billion people online today, it's no wonder that businesses that are using the web for sales and marketing are growing more than twice as fast as those not online. To show how and where, this study looks at data from 48 countries. The result is a Global Business Map that includes a breakdown by country and trend so marketers can get a better idea of what works where.
The Global Business Map provides a country profile for 48 countries on 6 different continents. The country profiles give an overview of fundamental country facts and specific market insights. We have collected those metrics most relevant for uncovering market potential and to help you recognize business opportunities specific to your company. This guide also provides an introduction to a range of products and tools available to you at Google, which are each explained briefly to help you get acquainted with the different ways in which you can reach out and connect with your target markets.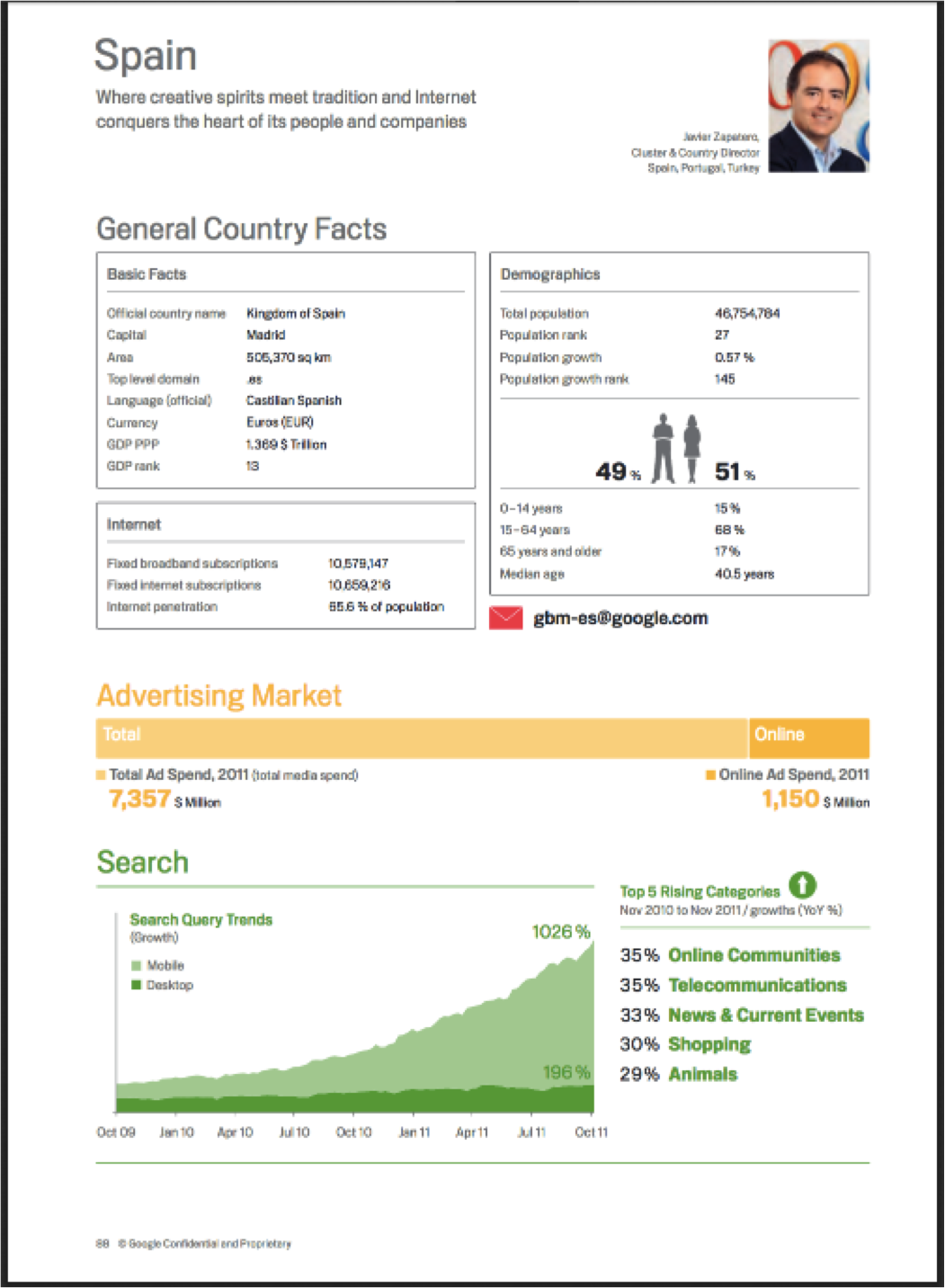 Each country page contains the following data:
Basic Facts:

official country name, capital, area, top-level domain, official or most spoken language, local currency, age distribution and GDP in terms of purchasing power parity and rank. GDP in each country has been expressed in US Dollars.

Demographics:

Population (total, growth and country rank), a breakdown of the age distribution according to gender and age group, median age.
Internet statistics: The Internet penetration of the population, the total number of broadband and fixed Internet subscriptions, as found by the International Telecommunications Union.

Google Contact:

The email address that you can use to get in touch with our local representatives. They will be happy to give you more insight into the statistics you can find in the pages here and connect your ideas with the appropriate Google products.
Global Business Map
Download Google Global Business Map
Total Page Visits: 6281 - Today Page Visits: 1