You are starting up your digital marketing business or working for a startup in USA or an oversees country. The first thing you need to get on board with is international business development in the following methodologies.
Business development:
Set the business value proposition

Designed the business model
.


What is Business development?

I know it all sounds a bit complicated but it really isn't if you follow thees two simple steps. For this, these models and templates will aid you in your quest. International business development evolves through the normal processes of trade, foreign direct investment, capital flows, migration, and the advancement of technology in undeveloped nations. Most of this information you don't need to create, the company already have most of these data in their business plan and marketing plans.
The importance of Business Development
But first, lets explain what it is and the importance of Business Development.  Do not panic, you do not need to have all thees skills or understand all of of this at first in order to start your business development process. I just though it is important for you to take a quick look.
The business developer is concerned with the analytical preparation of potential growth opportunities for the senior management or board of directors as well as the subsequent support and monitoring of its implementation. Both in the development phase and the implementation phase, the business developer collaborates and integrates the knowledge and feedback from the organization's specialist functions, for example, research and development, production, marketing, and sales to assure that the organization is capable of implementing the growth opportunity successfully.[3] The business developers' tools to address the business development tasks are the business model answering "how do we make money" and its analytical backup and roadmap for implementation, the business plan.

Business development professionals frequently have had earlier experience in sales, financial services, investment banking or management consulting; although some find their route to this area by climbing the corporate ladder in functions such as operations management. Skill sets and experience for business-development specialists usually consist of a mixture of the following (depending on the business requirements):

Sales
Legal
Proposal management or capture management

The "pipeline" refers to flow of potential clients which a company has started developing. Business-development staff assign to each potential client in the pipeline a percent chance of success, with projected sales-volumes attached. Planners can use the weighted average of all the potential clients in the pipeline to project staffing to manage the new activity when finalized. Enterprises usually support pipelines with some kind of customer relationship management tool or database, either web-based solution or an in-house system. Sometimes business development specialists manage and analyze the data to produce sales management information. Such management of information could include:

reasons for wins/losses
progress of opportunities in relation to the sales process
top performing sales people/sales channels
sales of services/products

For larger and well-established companies, especially in technology-related industries, the term "business development" often refers to setting up and managing strategic relationships and alliances with other, third-party companies. In these instances the companies may leverage each other's expertise, technologies or other intellectual property to expand their capacities for identifying, researching, analyzing and bringing to market new businesses and new products. Business-development focuses on implementation of the strategic business plan through equity financing, acquisition/divestiture of technologies, products, and companies, plus the establishment of strategic partnerships where appropriate.
Business development is to be thought of as a marketing tactic. The objectives include branding, expansion in markets, new user acquisition, and awareness. However, the main function of Business Development is to utilize partners in selling to the right customers. Creating opportunities for value to be ongoing in the long-term is very important. To be successful in Business Development the partnership must be built on strong relationships.
Lets get started :
Crafting your value proposition
Business Unique Selling Proposition (USP)
A Value Proposition is the core of your business model. Without a value proposition, it is impossible to know if and how your business will make money, which partners you need, the nature of your key operations, and how you will acquire and retain customers.
Andrea Ovans from Harvard Business review describes business model in a simple way, "All it really means is how you planned to make money." There are some that argue that using the updated version of business model can help entrepreneurs and managers to get beyond their current business model and try its updated approach called "Four Paths to Business Model Innovation,"
Karan Giotra, associate professor of technology and operations looks at ways to think about creating a new model by altering your current business model in four broad categories: by changing the mix of products or services, postponing decisions, changing the people who make the decisions, and changing incentives in the value chain.
Use the template below to learn and work on your Value Proposition
Note: MaRS workbooks are comprised of two elements―the workbook guide, which contains instructions, examples and activities, and the workbook template, in which you can write your responses. You can personalize the workbook template by adding your company name and logo.
Downloads
Crafting your value proposition
Business Model Design
2.  Design your Business Model
Entrepreneurs who are in the process of designing their business model require an approach that allows them to understand if and how a value proposition can be successfully scaled up to a profitable business, and that is done with the Business Model Design.
The Business Model Canvas is a strategic management and lean startup template for developing new or documenting existing business models. It is a visual chart with elements describing a firm's or product's value proposition, infrastructure, customers, and finances. It is a global standard used by millions of people in companies of all sizes. You can use the canvas to describe, design, challenge, and pivot your business model. It works in conjunction with the Value Proposition and other strategic management and execution tools and processes.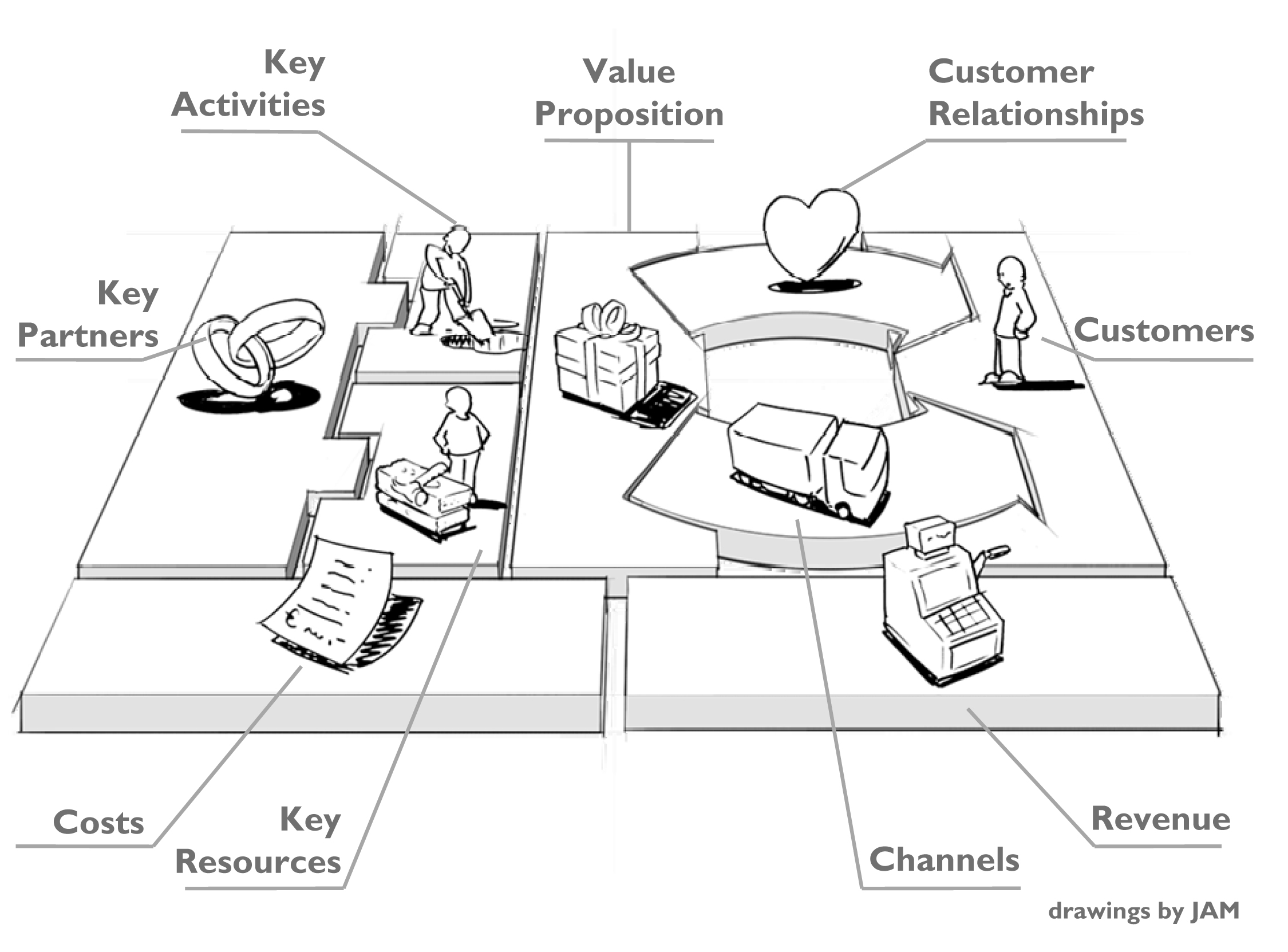 .


See a Business Model Design Infographic sample below:

 .
.
Downloads
Use the template below to learn and work on your Business Model Design
Note: MaRS workbooks are comprised of two elements―the workbook guide, which contains instructions, examples and activities, and the workbook template, in which you can write your responses. You can personalize the workbook template by adding your company name and logo.
.
Business model design workbook template
Total Page Visits: 10292 - Today Page Visits: 3